After reading the report issued by the Metropolitan Fire Brigade into the cause of the fire that ripped through Melbourne's Lacrosse tower in November last year, it struck me how similar the issues highlighted by this incident are to the Insulated Sandwich Panel exposure faced by many Australian Food and Beverage organisations.
In particular, the legal action being considered by the occupants has striking similarities to the Sahib v Norwich Union case in the UK in which Architects were sued over the inappropriate specification of insulated panel in a food processing facility after it was destroyed in fire.
That sounds extreme, I know, but hear me out.
The imported, highly combustible cladding that helped spread the Lacrosse fire 13 stories in 10 minutes, has similarities to EPS sandwich panels (EPS) – a wall and ceiling cladding used extensively throughout the Food and Beverage industry due to the cost, ease of installation, and hygiene benefits of clean smooth surfaces.
EPS panels are also extremely combustible and present a significant risk when installed. Despite this knowledge, many organisations choose to overlook this risk in favour of a cheap solution.
What are the consequences for organisation who use EPS panels?
EPS fires are very difficult to extinguish meaning they often lead to total loss and significantly increased business interruption. This inevitably means market share takes a hit too, and leaves employees shrouded in doubt as to what their future holds.
There have been a number of high profile incidents over the years that highlight the poor fire performance of these materials, two of the most prominent being:
Tip Top Bakery, NSW (2002) – Total loss of plant which rapidly spread because of EPS panels. This resulted in business interruption costs that were much greater than the costs associated with asset value damages.
Inghams, VIC (2010) – The majority of the Sommerville chicken processing factory was destroyed by a fire which was spread via EPS panels. This jeopardised the jobs of more than 1000 employees.
As a result of these fires, and other similar fires around the world, buildings with EPS exposure became a no-go-zone for many insurers. This still stands today, meaning it is much more expensive to insure buildings with significant use of EPS panels in their construction.
How can building owners reduce their exposure to the risks associated with EPS panels?
If you're thinking of building – steer clear of inferior building products.
Yes, it's an obvious method of risk avoidance, but I can't stress it enough. It might be the cheaper alternative, but your insurance premiums and potential losses will counteract this and see your costs skyrocket.
When it comes to considering the construction materials you use, it's important to use materials that have been tested in accordance with insurer recognised assessments. When it comes to insulated panels, insurance obligations are much higher than building obligations.
If you want to keep your insurance premiums under control, I suggest you seek advice on the specifications of the materials used in construction that you should be aiming for.
If you do have EPS panels in place, be proactive in your approach to managing your exposure to the associated risks.
To assist you in proactively managing the risks associated with these highly combustible panels, we have built the risk management controls on six pillars that, if fully implemented, will be effective in protecting your business: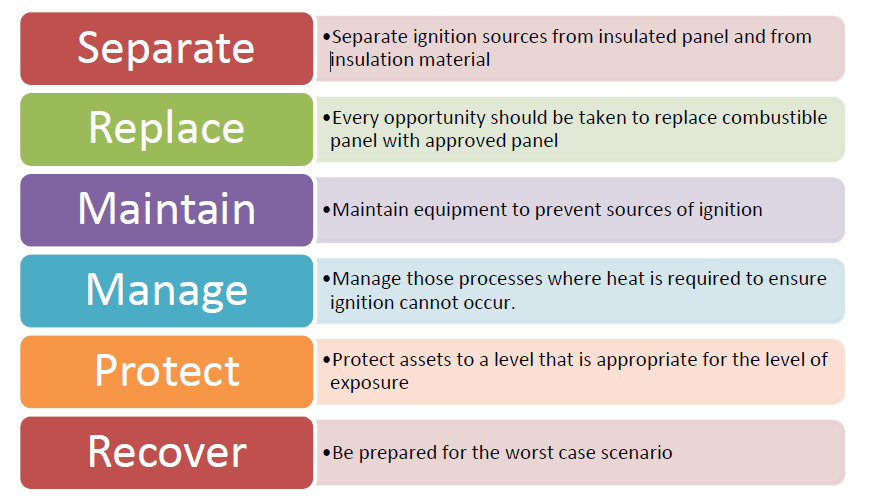 Recognising the prevalence of EPS panels in your organisation and proactively managing the associated risks will significantly improve your organisational resilience and ongoing viability. By reducing the ability for a fire to spread through your building, you are directly lowering the level of interruption that your business is exposed to.
The widespread use of EPS panels in the Food and Beverage industry is of ongoing concern. It is crucial that the appropriate risk management processes are in place to not just avoid loss, but also create quantifiable value for your organisation through a significant reduction in your exposure to loss and also reduced insurance premiums.
What is your level of exposure to the risks associated with EPS panels?
For more specific advice on proactively managing your risk using the six pillar in accordance with the standards set by insurers, contact Peter McGee, our EPS panel specialist, today.